Finally! A Gif Workflow Companion app for AndroidPosted on: August 27, 2014
I got sick of not being able to share gifs while on my phone so I decided to learn a new skill while at the same time scratching my own itch. Allow me to introduce my first Android app: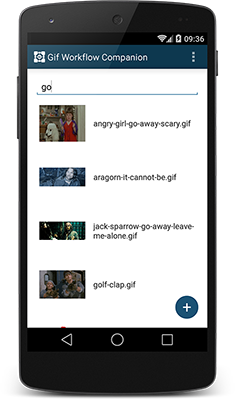 If you've read my previous post, you'll know that I've also added an obfuscation step to my version of @destroytoday's workflow so this is naturally rolled into it as well.
It's probably far from perfect, but it does the job perfectly for me. A quick overview of the features:
Ready to search as soon as the app opens.
Tap on the result you want to immediately choose where to share the link to the image.
Tap and hold to copy the link to your clipboard.
Upload images right from your phone by using the (+) button
Upload images using Android's built in Share functionality by sharing either images themselves, or valid image urls with the app.
Next on my list is creating a version that properly uses Android's latest Material Design changes - and I mean specifically in terms of using the new APIs since I've mostly tried to make the app Material Design-ey anyway.
So... introductions and explanations aside, you can get it here:

Gah! Why the Ads?
Quite simply: because I put a lot of hard work into this and I didn't want to put the entire app behind a pay wall.
I'm in the process of figuring out how to add an in app purchase to remove the ads that will only cost a few pence/cents/insert-pocket-change-of-local-currency-here.